This is a photo of me taken last October 24,2010. Fat, I know. I don't even look THAT fat in that photo cause the dress fits me good plus the cardigan does its job great.
And this is a photo of me taken back in 2004 or 2005, 2nd year highshool. I ain't thin back then. But I sure am slimmer compared to what I am now.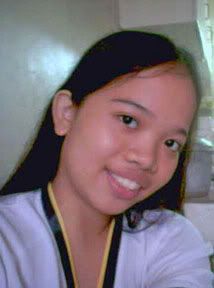 Dear, I am human and I am a lady. Of course I am not happy with my body now. Marunong ako mainsecure. I want to lose more than 40lbs and be able to fit in those pretty clothes. Sobrang arte ko! Ang dami kong gustong bilin at suotin. I want to be confident on how I look. Dagdag mo pa ang magaganda at payat kong bestfriends. Sinong hindi mababaliw sa pagpapapayat?
Sabi ng nanay ko, ningas kugon daw ako. Di ka pilipino pag di mo alam kung ano ang ningas kugon! hahaha. Magaling lang daw ako sa simula. Eh sino pa ba ang mas nakakakilala sakin ng pagkatagal-tagal kundi ang nanay ko. So siguro nga totoo? hahaha. Tamad din ako. Soooooobra.
Pero it definitely sounds wrong na pagpapapayat nalang katatamaran pa? at lalo namang kung ang pagpapapayat ay puro sa simula lang? Sobrang naaawa na ako sa sarili ko. Ito na ang pinakamatabang state ko sa buong buhay ko and I'm not getting any slimmer, pataba ako ng pataba.
One thing I don't do lately is to get myself new clothes. Sobrang ayoko talagang bumili ng mga bagong damit for I fear that I may like the way I look even though I am fat! Nooooooooo! Lalo akong mawawalan ng motivation pumayat kapag nangyari yun! T.T Kawawa naman ako. And for the record, I'm not overweight --- I am obese. @_@
Lahat na yata natry ko na. Slimming tea. Cosmo 5 day diet. Banana diet. Water therapy. Fitrum. Cosmo Body. Fit n' Right. Gym. Aero-Taebo. Bike. Jog. Fasting? Wala namang nangyayari!!!
Siguro kaya ako ningas kugon kasi maikli ang pasensya ko. Gusto ko may nakikita akong pagbabago. So pag feeling ko wala namang nangyayari, ayoko na. Haaay nako. Ang sabi nga ng nanay ko, "Hindi yan overnight!" Nga naman! hahaha. inip inip inip.
So ayan, eto ang latest losing weight drama ko. Nestle Fitnesse + Jillian Michaels. Why do I get this feeling that this is going to be effective? ;) Maybe because for the first time I'll be putting diet and work out together. I think I should've done that waaaay before.
Dear Nestle, please sponsor my diet. Kidding! Hahaha. Bought a box of Fitnesse and checked out the meal plan suggested:
Breakfast: a bowl of Fitnesse with low fat milk, fruit, a cup of coffee
Lunch: Balanced normal meal
Dinner: a bowl of Fitnesse with low fat milk, non fat yogurt
And because I am broke, I simply searched for the cheapest low fat milk in the grocery and grabbed the only non fat yogurt there. And upon checking out the counter, it was only then that I found out the everything in my basket was Nestle! Choose wellness, choose Nestle! ;)
So a box of Fitnesse is good for 6 servings. So what I did was I divided the contents into 6 separate ice bags just to make sure that I don't eat more than what I am supposed to.
And I couldn't believe that a serving of Fitnesse is only this small. I mean, seriously? Starting the day with only this little? After 2 hours, I'd be famished already!!
But oh my, mix it with milk and this whole grain cereal would immediately fill up your hungry tummy! Serious! I'm impressed. Eating this both for breakfast and dinner already cuts a lot of calories for me. I'm used to eating a lot every morning so that I have lots of energy to kick start the day. And I also end up eating a lot in the evening because of stress. So sticking to this food program has a huge effect already on my calorie intake.
And for the work out part...it's Jillian Michaels 30 Day Shred!
It's super hardcore, it's killing me! My body hasn't adjusted yet. I feel like I'm gonna die whenever I work out. Jillian Michael's 30 Day Shred is a 20 minute work out: 3 circuits of cardio, strength and abs. I suck in cardio. Super duper mega hingal! Feeling ko effective to, nakakamatay kasi ang feeling! hahaha.
Let's see. Tatagal kaya ako? ;) Gusto ko na pumayat at magshopping!!!